The Weekly Worship: Marvel 'tends to "Wow" before the launch of NOW.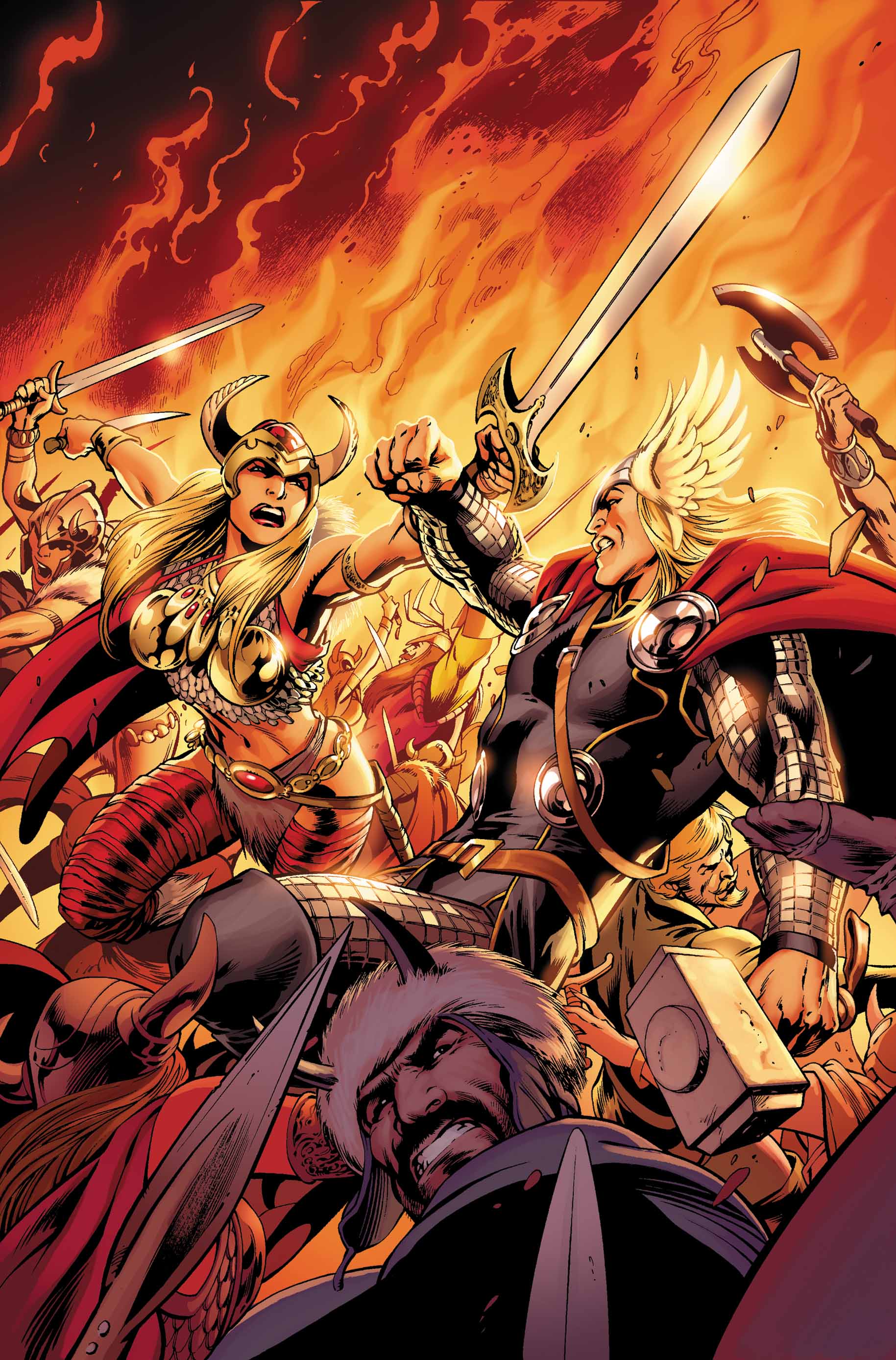 The Weekly Worship: Marvel 'tends to "Wow" before the launch of NOW.
If this week was any indication, Marvel Comics doesn't appear likely to whimper out the rest of their summer. Oh, you know, like whenever a company-wide relaunch is announced, books just start to suck. A few titles this week were swift enough to take the right detour.
But, what is MarvelNOW exactly, anyway? A reboot, a relaunch, a.. reprogramming?
The fact of the matter is, the new #1's coming in November look pretty damn awesome (not every book is being getting the do-over treatment, thankfully — see: Daredevil). Esad Ribic drawing our favorite Norse God; two of the most violent espionage titles come "Uncannily" together; and the company's world-building master sets to do the same for Earth's Mightiest Heroes.
Yeah, Marvel, I see you.
And, thankfully for those who've been buying for the longhaul — despite a last couple of rough months — these "Architects" should finish up about as solid as circumstances permit.
Both The Mighty Thor and Incredible Hulk (surprise, surprise) turned heads this past Wednesday, when both of Matt Fraction and Jason Aaron's rockier-than-usual powerhouses received unusual stamps of approval. Thor besting the rest for Finest Comic of the Week is like Canada upsetting Dream Team IV in a gold medal game. But, lemme tell ya, kid, it happened: The Mighty Thor #18 stops the inconsistent bleeding — and lack of Pasqual Ferry's fantastically fanciful sketches.
"Everything Burns" is Fraction's little crossover-that-could, especially when joined by the suitably epic imagination of Alan Davis and fellow Journey Into Mystery powerhouse Kieron Gillen. And now that the title's more recent issues of some messy "fill-in" art, Thor's instantly forgetable death, "God of Thunder" turnover of Tanarus, and the unfortunate murkiness of Thor's oft alter-ego (handicapped surgeon) Donald Blake's status have now certainly dispursed, everything Frac has intended — and Gillen has been building up for the Thunder God's younger brother in J.I.M. — is seemingly, wonderfully coming to fruition.
Loki — even as a wee child — manipulating his older brother with concern to their questionable ancestry? Say it ain't so.
Thankfully these two now have no choice but to let the bygones roll, becoming the very best of friends none of the company's studio films will ever reflect. Having girl problems, I feel bad for you, son, 'cause this shit got 99 bitches and Jane Foster ain't one.
You see, Loki has had his bubbles with the All-Mother, who's replaced Odin throughout the pages of Mystery; all the while Thor has been known to flirt with recent breakout soldier, Freyja.
With some surprise returns in this week's prologue, this entire Aesir/Vanir War of feministic attrition doesn't just stop at the goddess triptych and Flava Flav's favorite Goddess of Love. No, sir. Lady Sif (guess who's back?), Valkyrie (who hasn't been prominent since her enticing Fear Itself epilogue), and Hela (Hela Hela, hey!) are all bound to swoop right in and cause more havoc to the Nine Realms.
Call it "Men are from Asgard, Women are from Vanaheim."
Thus, we move onto Smashing stuff. It wouldn't be far from the truth to call Jason Aaron's Incredible Hulk the most disappointing title of 2012. Why? The man's track record has been nearly impeccable. He's the author of Scalped. He recently wrote one of the more memorable runs in Wolverine's history. He also writes one of Marvel's best in, well, Wolverine & The X-Men, a title that succeeds at making Logan the new Professor X. Fucking wild shit, I tell ya. And, even better news, Marvel's re-upping the title for the next season and beyond.
So what the hell happened with the Big Green Guy? Everything and nothing. After artist Marc Silvestri's controversial initiation (Man drew one hell of a warthog!), nearly every issue thereafter featured a different artist. So even when one happens to be the aforementioned Ferry, that sign is never good. Preacher and Punisher artist Steve Dillon even drew one of the worst renditions of Hulk ever, looking more like a Toxic Avenger or bald Lou Ferigno-sized grimmace than anything else. So what "The Hel" did the highly-talented comic scripter too?
He called up The Thing.
And, unsurprisingly, his good ol' pal Wolverine.
The Incredible Hulk #12 goes right because Aaron goes simple, injecting a much needed twist of events that finally spells the culmination of a seperate Bruce Banner entity. Hey, there's a reason for all of this "Stay[ing] Angry" stuff after all! It also helps that Carlos Pacheco delivers his finest art performance since returning to Marvel, seeing how his initial Uncanny X-Men contributions didn't exactly match the anticipation. Now, regardless of the whole What If? factor, Aaron's run at least has the chance to be a middling movie with a terrific ending.
HULK THINK GOOD.
Dude, Where's My Time? You can thank my early copy of Darksiders II for all of that. Not only has the Rev been working on various film sets every day — in addition to a couple bar gigs on weekend nights — but, damn, this game is a wear for the worrisome. THQ's Skyrimmedhorsemen of the Apocalypse sequel looks like it'll be twice as long a journey as the Dragonborn Game of the Year my roommate likes to compare. But, he dead wrong. Other than the tumultuous journey one player must go through to get to the Holy Grain, DS2 plays more Prince of Persia than your typical RPG. The weapon customization blows Bethesda's medieval enterprise out of the water, in addition to much harder "bosses" than those (qu)easy dragons. And, though I'm only about 1/5th into the game (don't expect a FULL review in time, sorry!), I'm liking it even better than my demo-time at E3. Death's journey may have much life to it, after all.
Captain America #16, Fantastic Four #609, and New Avengers #29 were also some of the more solid Marvel issues this week that also face the reboot in November, thus showing Marvel might be closing this whole chapter with some necessary smiles. I know reviews for those issues were mixed, and maybe that had to do with all of the NOWnews going on lately. But, hey, we liked 'em. And there's no surprise that Captain America's next writer, Rick Remender, whooped some dangling ashtrays on his final issue (#22) of his Flash Thompson-meets-Snake-Eyes saga, Venom. Definitely a collection of stories I'd check if you already haven't yet, sinners!
So, maybe we didn't see Total Recall or The Bourne Legacy when we probably should have, and for that, we apologize. Actually, we don't; we're busy, yo! So how were they? Let us know, congregants!! (Or, at least tell us what you thought of The Campaign. Yeah, I'd totally see that over the other action crap anyday). #Godlovespunchingbabies