TOP 10 MOVIES of 2013 [Geeks vs. Oscars]: 'Stuck' in the Middle with You..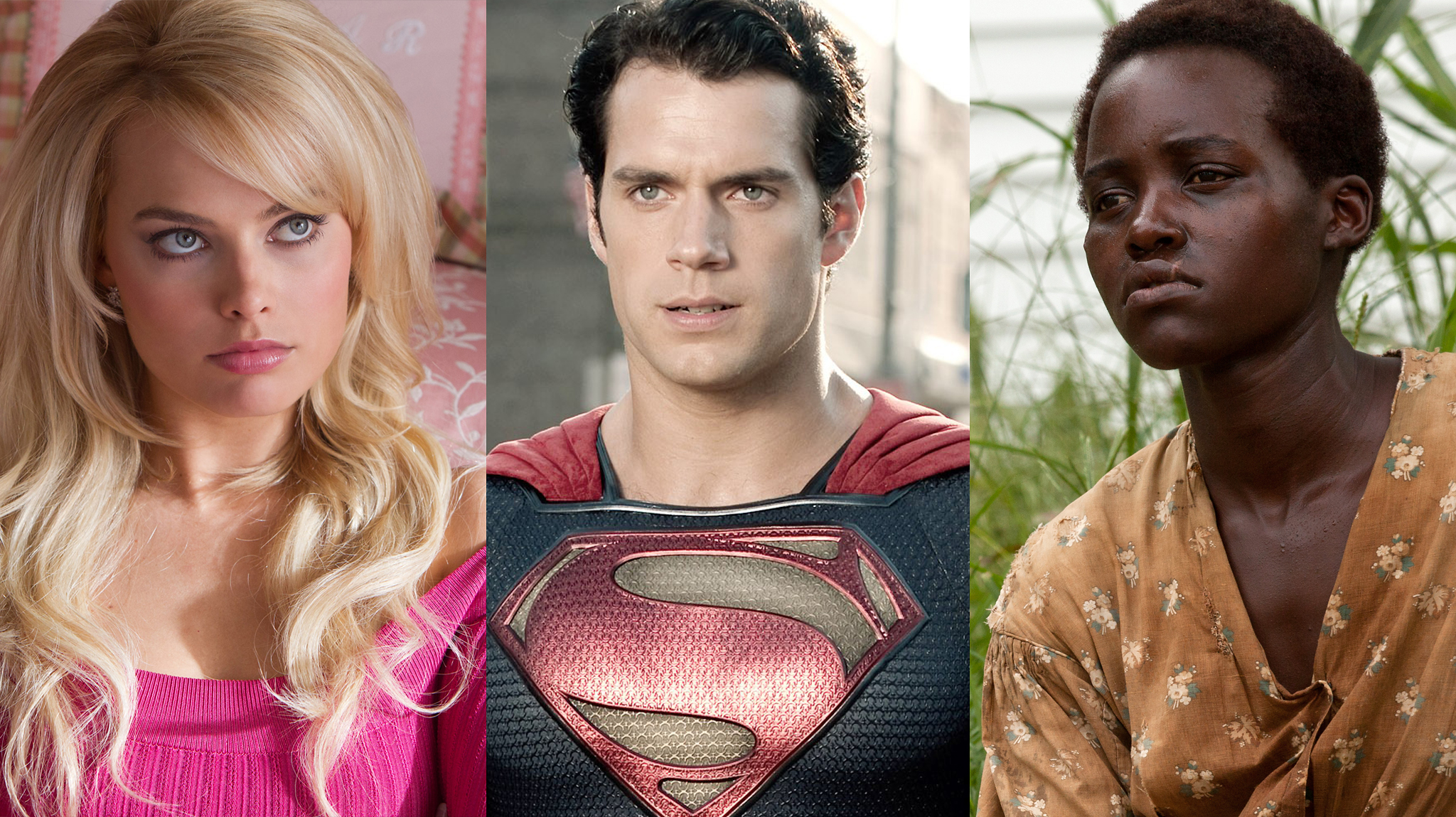 TOP 10 MOVIES of 2013 [Geeks vs. Oscars]: 'Stuck' in the Middle with You..
So much for the Death of the Box Office, eh?
Sure, there were plenty of movies this past year that tanked (The Lone Ranger, After Earth), that struck more polarity than anything Frozen (#1 and half of #4 on the Moody list were loathed and loved just the same), and simply didn't live up to lofty expectations (Elysium, Kick Ass 2). Either way, we were entertained — and the numbers show that we went to the theaters. A LOT.
What makes GHG's Top 10 Movies of 2013 list different from any other is that we compare the best of popular Geek culture with the best.. period. Because — hey! — plenty of us are just film geeks, after all. So, let our resident movie guru, "The Screening Sister" Sherice roll the dice with her favorites for the Oscar, and yours truly, "The Movie Monsignor" Travis Moody keep the superhero faith alive. Or just let us know just how crazy we are for these choices.
It's sure to spark up more controversy than a broken neck death in Metropolis.
"Monsignor" Travis Moody: 10. World War Z – Better late than never… There's a theme that runs throughout my Top 10 choices — and that's controversy. Before this Max Brooks zombie novel-turned-Marc Forster "disaster" flick was released, you can bet there was plenty of that. Reports of reshoots and Brad Pitt's dissatisfaction with the production process plagued headlines far more than anything else. Turns out, WWZ is a pretty damn good movie. At its very worst, there's perhaps no other zombie movie of its kind. It may not thrill "the Godfather of Zombie Culture" George A. Romero with a pandemic that causes the undead to gallop faster than a Usain Bolt 40-yard dash. There are questionable plot "twists" when it comes to these zombies only wanting "healthy" victims, too, avoiding any diseased and the virus itself not eating up the sick (but it makes for an entertaining premise, admit it). And then there's that fairly rushed ending (even in the "Unrated" cut I watched this past week). Either way, the movie proved tremendously ambitious, having had to have set the Guinness record for "Longest Port O'Potty Lines Ever", and offered a numerous amount of deliciously vicious action sequences. It's pretty frightening for a PG-13 film, which is initially what scared me off in the first place./3.5 (out of 5) Bibles
"Sister" Sherice: 10. The Conjuring – Since the success of The Ring there's been a hit horror flick every year! Last year, it was Scott Derrickson's Sinister, which starred Ethan Hawke as a true crime writer who moves his family into the home where a mass murder took place. My version of scary good time was The Conjuring, directed by James Wan of Insidious and Saw fame. Given that successful track record, it's not surprising this haunted house tale struck a chord with the movie going public. *clap, clap*/3 Bibles
Moody: 9. Pacific Rim – While most moviegoers enjoyed Guillermo del Toro's highly anticipated Pacific Rim in all its robot vs. monster fighting glory, I simply can't forgive the majority of the film's mundane performances. Still, it's the far more important performances by the Jaegers and the Kaiju that thankfully went on to steal the show. PR is one of the smartest CGI-driven films of the decade, worthy of any Blu-Ray collection. And "[Pacific Rim] is Transformers with a little more humor, a lot more heart, and a far superior level of detail." Moody, you go, boy! Ahem.. sorry. (See more)
Sherice: 9. 42 – I'm not into sports, but I do love me a good sports flick, and 42 was just that. Newcomer Chadwick Boseman certainly struck a home run with his perfect portrayal of baseball legend Jackie Robinson and his onscreen wife Nicole Beharie, dazzled in the supporting role. Incidentally, since the film's success, Boseman signed onto the James Brown biopic, Get on Up, and Beharie has joined supernatural T.V. stardom with her hit FOX series, "Sleepy Hollow"./3 Bibles
Moody: 8. Rush – What do you get when you throw Thor in a Formula One race-car? Lots of mead-driven headaches and wild wenches slayed is what! And as solid as Chris Hemsworth is at playing English playboy James Hunt, it's German actor (by way of Spain) Daniel Bruhl who steals nearly every lap. Relatively unknown to the U.S. (though you may recognize him from Inglourious Basterds, or The Bourne Ultimatum), Mr. Bruhl definitely deserves his first Academy Award nomination with this heartbreaking performance. If you've never cared a shit for professional racing before, especially that of the internationale, you'll appreciate Ron Howard's explosive efforts here. Oh, and you're right: this selection could have gone on either list. But since the highest-rated next-gen video game of 2013 was Forza Motorsport 5 — and it features plenty of F-1 selections to grind gears with — why not let fans of this darkhorse "geek out" for a moment?/3.75 Bibles
Sherice: 8. Much Ado About Nothing – As we all know, Joss Whedon is a busy man. Yet even with his packed schedule he managed to shoot Much Ado just after The Avengers and in two short weeks. Filmed in black-and-white, and in Whedon's own backyard, the Shakespearean favorite was just as charming if not more so than Kenneth Branagh's version./3.5 Bibles
Moody: 7. Iron Man Three – That damn plot twist! Even Marvel movies this year didn't steer clear of any controversy. Half of Iron Man 3's audiences reveled at director Shane Black's daring villain adjustments, while diehard fans of the classic Iron Man comic (all three of you) ran to the picket line when The Mandarin was discovered as no more than a hoax. In hindsight — despite being arguably Marvel's funniest film — IM3 lacks too much on its outside to place the film with Marvel's upper echelon. There wasn't enough Rhodey; there wasn't enough Mandarin (at least at the end; what a lame "Rescue"!); and there wasn't enough…Iron Man. Still, you'd do worse to ignore RDJ's heartfelt (or is that heartless?) performance. (See more)
Sherice: 7. Fast & Furious 6 – Now this choice may cause the congregation to scratch their head in confusion, but it really shouldn't. I mean, I'm not preaching to the choir when I say the Fast and Furious films are far from Much Ado About Nothing. But you know what? They were never meant to be. These racing turned espionage films were made to entertain and by that, they've achieved their goal. Frankly, sometimes a film is just about having a damn good time!/3.5 Bibles
Moody: 6. The World's End – My favorite comedy of the year (because the last half-hour of Anchorman 2 dives into an awful cameo overdrive). Wait, The World's End wasn't a comedy, you say? Was it a drama? A sci-fi spoof? Who knows. Whatever genre Edgar Wright was aiming for, even if it was all of them, I'm still tipping my hat. And I got to see next to Bill Paxton and in front of Nathan Fillion for the premiere. Cheers to that! (See more…butts)
Sherice: 6. Prisoners – This is one film I underestimated. Granted, I was going to watch Prisoners anyway for Hugh Jackman, since I love him as Wolverine. Still, the trailer didn't hook me. Thankfully, I caught the thriller while in theaters and was thrown by how gripping it was. Thank goodness, it wasn't your typical revenge film. Screenwriter Aaron Guzikowski made sure of that by delving deep into the psyche of a man whose moral fiber deteriorates while searching for his daughter's kidnapper. Top notch work from both Jackman and Jake Gyllenhaal./3.5 Bibles
Moody: 5. The Wolverine: Unleashed Extended Edition - Not sure if Blu-Ray's can count on our Top 10 list, but I don't care. What other movie alone garnered two full-length articles and a podcast from this very website? Hell, even Logan himself stopped by our offices to review the theatrical cut… SNIKT! (See more)
Sherice: 5. Gravity – Who would have thunk, a film about a character floating around in space for ninety minutes would be so spectacular? I certainly didn't. But Alfonso Cuaron and his son Jonas knew it had potential to be legend. Thanks to the folks at Warmer Bros, the studio saw the film to fruition and with fantastic results. Not only has the film surpassed 600 million at the box office — making it one of the top earning films of 2013 — Gravity has proved actresses over 40 can command an audience. (See more)
Moody: 4. *TIE* Star Trek: Into Darkness / Gravity – Oh, the dreaded "tie." But at least this one makes sense. Kind of. These were two of the finest sci-fi films of the year, both attempting to accomplish entirely different things. While you might not agree that Gravity is a "geek" movie per se (perhaps, more of a "nerd"?), it did blow up at this past July's San Diego Comic-Con and got the whole culture riled up with Alfonso Cauron's spacious beaut. The movie is simply something to behold. Into Darkness, on the other hand, offered even more explosive entertainment than its excellent first outing — especially with Benedict Cumberbatch's frightening portrayal as Khan. Although STID's madness equated to a more inept story this time out, JJ's second entry into the S.S. Enterprise also equated to one of the year's most exciting films. In comparison, Gravity is the year's most fraught. What a performance by Sandra Bullock! While there's no doubt Gravity is deserving of some Oscars (and Into Darkness, minor technical categories aside, isn't), I'm more likely to see Star Trek II again and Gravity not — even if Ed Harris is his incredibly awesome self as "Mission Control." (See more)/4 Bibles
Sherice: 4. Dallas Buyers Club – Both Jared Leto and Matthew McConaughey are receiving awards buzz for their work in this autobiographical film about a man who helps AIDS patients receive the meds they need to fight the virus. In order to convey how much of a toll the virus takes on the body, Leto and McConaughey lost a considerable amount of weight, making their performances all the more compelling./4 Bibles
Moody: 3. Thor: The Dark World – Sorry, Stark. The Dark World is easily the best Marvel sequel yet. By Odin's eye, it's also the funniest. I'd also argue that Thor 2 is the best Marvel film this side of The Avengers and the original Iron Man, even with its disappointing, yet sorta cool-sounding villain, Darth Malekith the Accursed Vader. The whole Aether thing is also a plot device mcguffin cop-out; so, for those particular criticisms, I can't argue. The rest? Godly. "Game of Thrones" director Alan Taylor pushes the pace, particularly during the film's final battle. Like my review states, he envelops the sequel with one of the coolest fight scenes in superhero movie history. Complete with a total "geek out" post-credits scene, true believers really couldn't ask for anything more. (See more)
Sherice: 3. American Hustle – Are any of us surprised David O. Russell would deliver yet another instant classic? From the moment photos leaked of Christian Bale in a comb-over to Bradley Cooper sporting a perm, I knew this film would be gold, and it was. Everyone was on point here. But as far as standouts performances go, I've gotta give it to Amy Adams who was absolutely on fire in this. So much so, I wouldn't be surprised if she earns a Best Actress nomination. In fact, I'd count on this film receiving quite a bit of love this award season./4 Bibles
Moody: 2. The Hobbit: The Desolation of Smaug – An absolute thrillride from head to toe. If you thought the initial Hobbit film was Unexpectedly too long, too boring, too talkative, and too real-looking to the point that it looked fake, then hath no fear; The Hobbit 2 will definitely Smaug all of your greatest fears. Peter Jackson's second Hobby offers a much more pleasurable pace, and its entirely arguable that his many changes (and extensions from other Tolkien lore) have made this a better story. And to think the addition of Evangeline Lilly as elf warrior Tauriel and the return of Orlando Bloom as Legolas didn't stir up as much of an outcry as predicted. Balls. I'd go on, but I think our "Arch-Angel" Andy Crete has already touched the film with more deserving words./4.5 Bibles
Sherice: 2. The Wolf of Wall Street – In truth, the film should be titled "Give Leonardo DiCaprio an Oscar Already". As the mock title implies, Leo was damn good in The Wolf of Wall Street. As usual, Martin Scorsese has this uncanny knack of getting the best performance out of DiCaprio, who plays former Wall Street trading tycoon, Jordan Belfort. The story is outrageous. Filled with sex and drugs, I don't recommend watching this with granny, but it's definitely one to watch at a theater. With so much going on, I had to watch the film twice. Trust me when I say this, The Wolf is even better a second time. It's definitely another awards contender, but the Academy may not be comfortable with the level of debauchery./4.5 Bibles
Moody: 1. Man of Steel – Now, be honest. Were you one of those 500 people who "liked" my 5-Bible review of the film before the sudden massive outcry? Then perhaps you are partially responsible for the strong customer reviews over at Amazon, or the not so bad overall score on IMDB (that was originally much higher around the time of release). Why this film went from godsend (ha!) to completely neck-snapped, defeats me… Wanton destruction? If two gods of limitless superhero strength decided to square off — after a 20,000 foot "World Engine" was just prevented from terraforming the Earth's core! — you don't think the majority of your city would get destroyed? Not even a Justice League was preventing that, nevermind a rookie Superman who literally had his hands tied. If you watch again, Kal TRIES to keep the fight above the Metrop, but after seeing the remains of his home planet relegated to a hand full of ash, this Super Zod (an ultra menacing Michael Shannon) wasn't having it. As if Supes had a second to "pause" this confrontation to save anyone. No matter your rebuttal, Zack Snyder's Man of Steel is the Superman film I've always wanted. He made this next-gen Supes origin tale dark, funny, heartfelt, and incredibly sci-fi. Superman is a science fiction superhero, through and through and this film depicts that quite imaginatively. No matter how many people tell me otherwise, I will still never lose Hope, or my love for this film. "People are afraid of what they don't understand." Thanks, Pa Kent. (See more)/5 Bibles
Honorable "Not Geek" Mention:
-The Wolf of Wall Street (If I was doing a "normal" movie list, this would be on top; Leo & Scorsese do it again! This master class in physical acting deserves its place among of the great director's best — and stretches Leo to the top of the game. Oscar, finally?/5 Bibles)
-American Hustle (It's been a nice year for Bruce.. I mean.. Christian Bale. His overweight con is nearly heartbreaking in one of the more subtle roles of his career, all the while you can't go wrong with David O's tenacious trio of Lois Lane, Mystique and Rocket Racoon. Uh?/4.25 Bibles)
-Saving Mr. Banks (Unless you're talking Marvel or Star Wars, I'm not quite the Disney fanatic many of my close compatriots are; but this one was a real tear-jerker. A lovely story. Hanks was fit to play Walt, and Emma T is more than supercalifragilisticexpialidocious!/4 Bibles)
-Captain Philips (More Tom Hanks! And although the movie lands into hokie 90s "Bruce Willis" territory, it's a touching story with plenty of terrific performances — none more surprising than that of newcomer Barkhad Abdi./3.5 Bibles)
-Fruitvale Station (In a sea of depressing 2013 movies, this one is top's on my list./3.5 Bibles)
-Pain & Gain (One of Michael Bay's Top 5 movies — even if that isn't saying much — but Dwayne Johnson's "Male Bimbo" and Marky Mark's douchebag meathead made this true story all the more fun./3.5 Bibles)
Honorable "Geek" Mention:
-Oblivion (Better than the more lauded Elysium; but it's Tom Cruise, so gets nowhere near the credit. Amazing film locales./See more)
-Anchorman 2: The Legend Continues (Like I tweeted last week, this would have been the funniest movie ever, if not for all the crammed in cameos in the film's final act. Still, it's funnier than the first, even if the story isn't as complete./3.5 Bibles)
-Fast 6 (Another movie The Rock was really good in; it's nice to see the former WWE champ show some acting chops in addition to all of that brawn. And who isn't now haunted by the whispers of Paul Walker's "Ride or Die"? Also, WB was obviously casting Wonder Woman from this movie…Jordana, Gina, or Gal? They all seem viable…/3.5 Bibles)
-The Is The End (Predictably hilarious; made light of the end of the world like my most favorite comedy, and that's OK./3.25 Bibles)
-Monster's University (Cute stuff, and better than most Disney sequels not named Toy Story./3.25 Bibles)
Movies I Haven't Watched.. Yet:
-Ender's Game (who has?)
-The Hunger Games: Catching Fire
-12 Years A Slave
-All is Lost
-42
Sherice: 1. 12 Years A Slave – I can't stress enough how important this film is. Yes, the subject matter is difficult to handle and many of you may pass on it because of it. But I think that's one of the reasons you should see it –- to face the tough topic head on. Another motive to watch 12 Years is the talent involved. Certain to be lauded with award nominations, every performance is of note and Steve McQueen's direction is brutally honest. To help the films awards chances, this masterpiece will be re-released in select theaters on January 17th./5 Bibles
Honorable "Geek" Mention:
-The Hobbit: Desolation of Smaug (Action packed and filled with dwarves, elves and one mean ass dragon, the follow-up to The Hobbit: The Unexpected Journey was a joyous trip./3.5 Bibles)
-Pacific Rim (Just an all around fun film that harkens back to the giant robot films of old with a touch of Voltron./3.5)
-Thor: The Dark World (Worth seeing for Loki's imitation of Captain America alone./3.5 Bibles)
-Oblivion (Surprisingly, this was a solid sci-fi flick. I'm glad I caught it in IMAX. The cinematography was incredible./3 Bibles)
-Warm Bodies (I honestly thought this film was going to be the Twilight of zombie movies. Thank goodness I was wrong. I'd definitely watch a sequel./3 Bibles)
Movies I Haven't Watched.. Yet:
-Nebraska
-Mud
-The Way, Way Back
-Kings of Summer
-Enough Said
We hope you enjoyed our Top Movie choices for 2013! You have a lot of catching up to do, now, don't you? From GodHatesGeeks, have a very Happy and safe New Year.